Transform Your Work
with ChatGPT
\ Easy Trial /

Free
\ User-Friendly /

Simple
\ Secure Data /

Safe
Have You Used ChatGPT at Work?
AI is Replacing the Old Working Style
ChatGPT is one of the hottest AI topics of 2023 and even there are rumors that AI will replace up to 60% of the labor. Although ChatGPT is best known for its ability to answer questions, its functionality is even better in processing large amount of data quickly and much more efficiently than humans.
ChatGPT Auto-Data Entry Assistant is a plugin developed around this core feature, allowing users to use AI plugin to speed up the work in Google Drive.
Let ChatGPT Auto-Data Entry Assistant to Process The Large Amount of Data For You!
ChatGPT Auto Data Entry Assistant is user-friendly and easy to use. Just upload your images and PDF files to Google Drive and ChatGPT Assistant will process the data into text and extract the information your require into a Google Sheets. It automates your manual data entry tasks.
Let AI Help You To Key-in!
Typist
Upload → Check → Finish!
ChatGPT Auto-Data Entry Assistant can do 80% of your key-in work, just double-check.
HR
Different Type Resume Is OK
ChatGPT Auto-Data Entry Assistant extracts required info from resumes into a spreadsheet, even if they are in different formats.
Accounting
Sort Invoice Efficiently
Manual invoice entry is slow and error-prone. Use ChatGPT Auto-Data Entry Assistant to speeds up and improves accuracy.
Sales
Cards Uploaded And Saved
Sales people can now take photos of business cards, upload them, and let ChatGPT Auto-Data Entry Assistant to organize them.
Mail Clerk
Sign For Mail Without Entry
Mail receivers manually check sender and recipient info. ChatGPT Assistant automates the checking and reduce the errors.
Administrative
Sorting Quotation Faster
Upload PDF and let ChatGPT Assistant to extract the information to Google Sheets. Finish in seconds for tasks that requires hours!
Relax And Enjoy The Convenience Of AI Technology!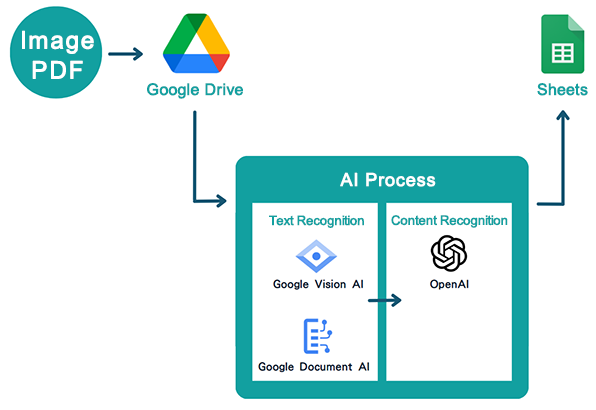 Let AI Technology To Do Your Work With One Click
ChatGPT Auto-Data Entry Assistant combines AI technology of Google and Open AI which runs in Google Cloud Platform (GCP). There is no need to setup the GCP or subscribe to ChatGPT, you can simply add this plugin as an add-on from the Google Workspace Marketplace.
Files Stored Locally For Safety and Security
Your data is uploaded and downloaded via your Google Drive. You can think of it as a pipeline. Your data is not stored or shared during the processing process. It is secure and you do not need to be concerned about it being collected or used for other purposes.
FAQ
How long would it take to install the ChatGPT Auto-Data Entry Assistant? Should I fill any personal information to add this plugin?
About 10 seconds.
You can start using it as soon as you finish installing. There is no need to fill in any personal details.
Will the data upload to Google Drive can be seen by anyone?
Rest assured, we are unable to view or download your file. Your file will be stored in your company's cloud database. TS Cloud will not be able to access it.
Will ChatGPT learn my data?
No, ChatGPT is a channel, not a database. It stores only account-specific information (domain, email, deposit amount, and click-through rate). You can use it with confidence!
Does ChatGPT Auto-Data Entry Assistant consume the Google Drive storage space?
ChatGPT Auto-Data Entry Assistant will not take up your Google Drive storage. It is designed as an application or you can see it as an extension that processes your actions towards your needs.
Does ChatGPT Auto-Data Entry Assistant consume my computer's space?
ChatGPT Auto-Data Entry Assistant is a plugin, not an app, so it won't take up the storage space on your computer. Install it directly from the website.
Who can I contact about any issue while using the ChatGPT Auto-Data Entry Assistant?
You can submit your query via this form and our Specialist will contact you for assistance.
How will I receive the invoice?
You'll get the invoice in PDF form via email.
Is there an expiration for the purchased prepaid plan?
The prepaid plan has no expiration date where you can activate to use it at any time.
Will I get refund for unused documents?
No. Before purchasing, it is recommended to install the free trial version and choose the most suitable plan as per your need.
About TS Cloud
TS Cloud has been in the cloud industry with 16 years of experience, provides effective solutions to the problems of enterprises and also helps enterprises to adopt Cloud Office in a short span of time to improve the business's competitiveness.
Are you also facing Digital Transformation challenges? Let us get you go cloud seamlessly! Contact us now.
Google Cloud Partner
Google Cloud Partner Specialization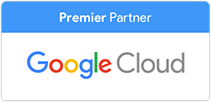 Google Cloud Premier Partner